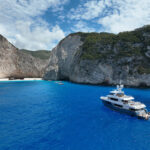 HYDRO TEC AND THE EXTRA MILE
3 Agosto 2023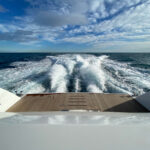 A DEEPEST LOOK INSIDE MY K2
3 Agosto 2023
Hydro Tec's secret formula that balances exploration with sustainability
Hydro Tec is a studio that hardly needs an introduction – its reputation has been confirmed on the red carpet time and time again, as its yacht designs have laid claim to a great number of awards over the years. The Italian studio began life as an engineering company, but soon morphed into a fully-fledged yacht design firm, and as a result of this natural dynamism it offers something unique: an integrated design vision that can deliver the full-package.
The studio can start from a blank sheet to conceive a new yacht, and find solutions for any kind of matter. But, primarily, it offers its expertise to design the perfect yacht in terms of aesthetic and function. Hydro Tec realised that this is only possible when you have a multi-professional presence in the same company, all with a common sensibility.
 
Sergio Cutolo, founder of Hydro Tec, conveys these values and sensitivity to the entire team of Hydro Tec, which today counts more than 20 people and different external partners, as he likes to say, "Designers see the yacht through the eyes of the engineer, and the engineer sees the yacht through the eyes of the designer."
The Italian studio has proven this time and time again, with close to 150 yachts delivered and a further 25 underway sporting a Hydro Tec design since its inception in 1995. Hydro Tec is a force to be reckoned with when it comes to bespoke one-off projects, with the likes of the 80-metre Columbus Classic Dragon, the 40-metre Flexplorer Aurelia and the forthcoming ISA Custom 80m superyacht. For this latter project, Hydro Tec was entrusted with the naval architecture and engineering, while the exterior design was penned by Espen ØinoInternational.Photo: Palumbo Superyachts"There are many positive aspects of this integrated design vision for the whole industry, especially on the production side. "Within our own studio the aesthetic, functional, and technical aspects are inseparable. The dialectic we drive is always grown as a whole, a single unit of thought," Cutolo explained. Our approach is the perfect solution for start-ups, as we act as a single interlocutor for shipyards, handling all design and technical aspects, problem-solving where necessary and, importantly, significantly reducing lead times."
Palumbo Superyachts, Cantiere delle Marche (CdM), Rosetti Superyachts, Vittoria Yachts are but a handful of the yards that have made great use of Hydro Tec's dynamism. If we look at 2022 deliveries, then we should note the delivery of CdM's 31.1-metre explorer yacht Uptight, which is the latest iteration of the Hydro Tec-designed CdM Darwin 106 series (which made its premiere during the Cannes Yachting Festival, and will be followed by CdM's 43.1-metre explorer yacht Acala, debuting at Monaco Yacht Show).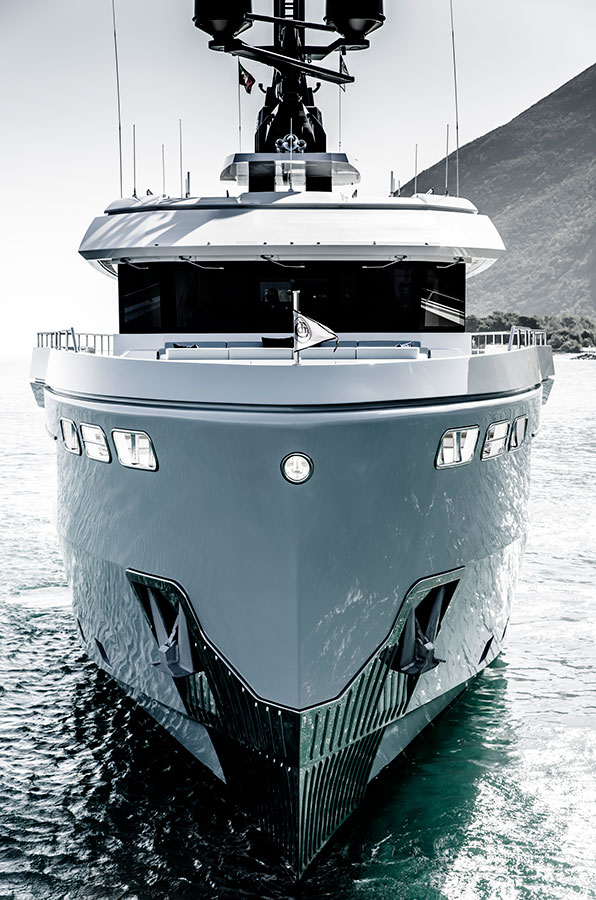 Designed to fulfil her owner's desire to have a reliable and comfortable explorer yacht to enjoy months-long fishing expeditions in remote and uncontaminated seas, Uptight is based on the naval platform of the Darwin 102 which was designed, engineered and modified by Hydro Tec to match her owner's requests and to meet the American standards.
Hydro Tec-designed explorers have seen great success, one example is the new Columbus Crossover 40 series, of which Columbus Yachts have already started to build a unit on spec at Palumbo Superyachts' facilities in Savona, Italy.
The Columbus Crossover 40 explorer yacht offers 450 GT of interior volume and accommodation for as many as 10 guests. The design is both elegant and practical, penned with large open aft sections for tender storage and guest's enjoyment. The Columbus Crossover 40 is expected to be delivered Spring 2024.Hydro Tec's secret ingredient is to pursue the philosophy of freedom: the true essence of yachting. The studio ensures that its yachts have the right characteristics to provide unvetted exploration – the ability to cruise for a long time without touching shore and the features of a self-sufficient floating island that can offer its guests impeccable comforts. This is Hydro Tec's design mission.
To provide this Hydro Tec seeks to optimise efficiency by reducing drag and by creating a sleek, streamlined hull. The Flexplorer Aurelia is a prime example of this, as she's been optimised in such a way to boast an incredible 7,500 nautical mile range when cruising at 10 knots. To put this in perspective, it's the equivalent of two-and-a-half Atlantic crossings.

This vision must confront and adapt to new demands, including the fact that more and more shipowners are becoming more attuned to sustainability. One great example is the Rosetti Superyachts 38m, which the clients wanted to be fitted with cruelty-free materials, so no real leather and everything vegan-friendly. They also wanted to have a water purification system that eradicates the need for plastic bottles on board.
"We're in a phase in which the norms oblige us to a progressive reduction of the emissions" Cutolo said " but in the yachting sector in particular, and in the naval one in general, the propulsion with internal combustion engines is still indispensable. An Atlantic crossing, at present, can only be tackled thanks to the kilowatts of diesel engines. "
"On the technical level, however, there are several areas that can prove decisive," Cutolo continued. "Improving the hull's hydrodynamic efficiency, reducing operating speeds, optimising the onboard equipment, reducing total displacement by using lightweight materials or using recycled or recyclable materials, these are just some of the actions that we can put in place to reduce the carbon footprint.""Then we have a whole series of optimisations to reduce what are normally identified as 'hotel' loads of the yacht, such as, primarily, HVAC, which is normally the greatest part of fuel; consumption, up to 45-50 percent of the total hotel load of a yacht. Hot water production and the galley are also a big part of the total fuel consumption going up to 15 percent of the total load."

One of the key areas that Hydro Tec focuses on is how to reduce energy consumption from the onboard generators, which work continuously to produce hygienic hot water for washing or for swimming pools. Hydro Tec is also monitoring efficiency in the field of window glazing to achieve optimum heat retention. This is often overlooked, but large glass surfaces require a sizing of the HVAC system that already uses around 50 percent of the energy produced by the generators.In an age where new ideas are born every day, joined with the necessity to adapt to an ever-increasing need to reduce environmental impact, the goal of Hydro Tec is to offer its customers the freedom they seek combined with sustainability without compromising on luxury or class.