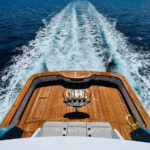 HYDRO TEC'S SECRET FORMULA
3 Agosto 2023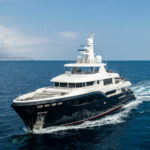 A STAR IS BORN: M/Y STELLA DI MARE READY TO SET COURSE
3 Agosto 2023
A deepest look inside my k2
From the point of view of naval engineering and architecture, the Columbus 50 S K2 has an illustrious ancestor in the design of the Columbus 40 Sport Hybrid.
The hull takes its lines, characterized by the vertical and particularly sharp bow, with its double chine cross sections to improve seakeeping and keep the boat dry even in rough sea conditions. And in fact, the Owner of the first Columbus 50 S, was the Owner of one of the Columbus 40 Sport Hybrid and, when ordering a new yacht, he had an outstanding reference point in his previous yacht.

It is always very challenging to build a boat to a repeat Client: normally they are very happy with their present yacht but they just miss some space or they look for improved performances. This was the case of the Columbus 50 S "K2". The transatlantic autonomy requirements, combined with the limitation of the maximum draught for use in the Bahamas shallow waters, have involved the search for an optimization over the entire resistance curve, both at the maximum contractual speed and at the lowest speeds. Precisely the analysis of performance at lower speeds has returned particularly interesting values, with consumption of the order of 70 l/h at 10 knots, particularly good if we consider the characteristics of the hull.

The Columbus 50 S, moreover, has been the subject of technical attention to noise and vibration reduction: at sea trials, the Columbus 50 S has reached extremely low values of noise in guest rooms, particularly significant because obtained at a value of 85% of the maximum power of the propulsion system, at a speed, then just over 20 knots. In essence, the Columbus 50 S contains two distinct souls that allow it to be an absolutely sporty boat, in terms of maximum speed, without detracting from the comfort on board and with autonomy, at economic speed, absolutely in line with hulls of displacement type.

The Columbus 50 S became a new milestone for Hydro Tec, due to absolute ride comfort, the manoeuvrability and the low fuel consumption.