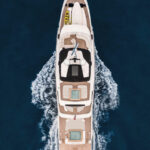 HYDRO TEC'S WINNING STREAK CONTINUES
3 Agosto 2023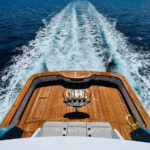 HYDRO TEC'S SECRET FORMULA
3 Agosto 2023
Hydro Tec and the extra mile :
In conversation with the owners of Uptight and Emocean
Nurturing relationships with the client is at the forefront of shipbuilding and yacht design, and it's an art that Hydro Tec has mastered. Two case studies really highlight this; the first is the 32-metre CdM motor yacht Uptight and the second is the 38-metre Rosetti Emocean.
SuperYacht Times sat down with Sergio Cutolo, founder of Hydro Tec, and the owners of both Uptight and Emocean to learn more about the process of taking a yacht project from concept to sea.

The 32-metre explorer Uptight is an evolution of the 102 Darwin series – and it seriously pushes the boundaries. "We were in front of experienced owners with a great passion for the sea and fishing, who wanted to build their first steel yacht," Sergio Cutolo, founder of Hydro Tec, explained.
This owner was Jeffrey Fiorentino who had already been dissuaded time and time again not to undertake a new-build route, but he was undeterred. "Many people say you should never build a new house from scratch.
Those people say the same about yachts," Fiorentino, told SuperYacht Times. "Even though we have owned many custom and semi-custom Sportfish boats up to 20-metres, this was our first live-aboard yacht and we needed help transforming our dreams to reality."This dream was a slow displacement vessel to enjoy long expeditions from the moment the yacht leaves the quay to the destination – the first of which was an exploration of Alaska and beyond, in pursuit of some of the big game that call the Bering Sea home. Hydro Tec and exploration yachts are pretty much synonymous – but the Italian studio isn't so well-versed with the nuances of design required for anglers.

"From an architectural standpoint, the fishing cockpit was a bit of a challenge for us," Cutolo confessed. "We have had no experience with this kind of design, but we plugged some serious research, following the designs of the most successful American fisherman, to learn what works and what doesn't."It was of no concern to Fiorentino though, who was greatly reassured of Hydro Tec's ability, after spending great lengths of time with Sergio during the conceptual stage. "After delivery of our first 285 GT yacht, we decided that the growing family would need a larger yacht," Fiorentino explained. "Sergio and his wife, Silvia, spent a week on our yacht as guests and listened to our ideas of what a 499 GT upgrade would entail.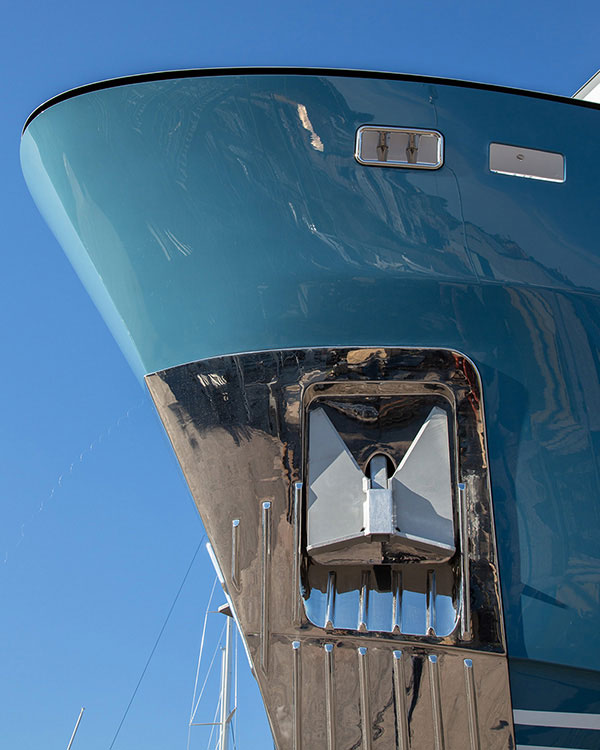 Because our yacht involved the requirements for a large family, two owners suites, a highly customised and large open galley plan, and special fishing and entertaining needs, Sergio spent the time needed with us to gain this understanding so that the final yacht met our exact dreams."Hydro Tec stretched and pulled the schematics of the Darwin 102, expanding its length by an additional four feet to incorporate a fighting cockpit. To achieve this, though, the whole aft section had to be redesigned. As this was a yacht destined for the chase; the owner raised concern about being able to navigate shallow waters, due to the inlets on the original design. "When the owner explained that they'll be cruising shallow waters for their sport, we proposed the idea of keel coolers," Sergioexplained.During the build process, challenges always arise, Sergio and team were there and helped us overcome issues that arose in the build and most often, improved the design and spec to build an even better boat in the end," Fiorentino reflected. "I could write pages about how this small/medium size design firm gave us a lot of attention that a large firm could not give us. That personal attention and the resulting friendship makes our experience one we will repeat with Sergio and team many times."

In less than 12 months, the owners of Emocean have already put 20,000 nautical miles on the clock, and embarked on not one but two transatlantic crossings. They wanted a yacht that can satiate their thirst for exploration and stand-up to the rigor of lengthy excursions out at sea.
"When it comes to explorer yachts the one thing that really matters is the hull shape," the owners of Emocean told SuperYacht Times. "The hull is the foundation that paves the way for good performance, low vibrations, and hardy stability both at anchor and while cruising." In their mind, there was only one studio that could deliver the quality they required: Hydro Tec.Hydro Tec is well-known for pushing the boundaries of possibility with each of its deliveries. "The secret," Sergio confessed, "stems from offering the full package (naval architecture and exterior design). 
The studio, then, has full reign over the project and has a breadth of knowledge that's instrumental for success, especially when working with newly-formed yards like Rosetti Superyachts. But that doesn't mean that Hydro Tec isn't confronted by challenges."We were approached by some very knowledgeable clients, who have owned a number of smaller yachts, but who were looking for something more spacious and more suited to their needs," Sergio explained. "This was the first time working with them, and it was refreshing to be designing a yacht for clients that wanted to break the traditional mould."The only way to achieve this though was by having strong communication, every step of the way. It was also important for the designers to listen – and I mean, really listen – to the client's needs. "Sergio Cutolo is incredibly open-minded, which we really appreciated," Emocean's owners explained. 
"His experience and personality eased the whole process of transforming plans and ideas into solutions and a properly engineered product."At the heart of these conversations were three core needs: space, autonomy and connection with the sea. These clients wanted to use their yacht for long periods of time, in comfort and with the constant reminder of the beautiful locations they're cruising. Hydro Tec got creative; "we created a sort of mezzanine and a novel general arrangement, where we worked vertically to free up as much space as possible," Sergio explained. "One key area that we exploited was the bow, which we converted into a technical space. Whereas, to provide a constant connection to the external environment, we featured a 'column of light' that starts from the fly and arrives at the staterooms through glass flooring."
These bespoke and tailored features just wouldn't have been possible without openness to communications and relationship building – and as a result, the final product wouldn't be polished to such a shine. Would you use Hydro Tec for any future projects? I asked. "Without a doubt," Emocean'sownerssaid.